How to Choose from Many Styles of Needles
by:Liqin Huang
293 browse
Time required for reading:10 minutes
Recently, some tattoo artists are asking questions about tattoos on the Internet. For example, when doing manual tattoos, how to choose the appropriate manual needles? When tattooing different parts, different needles should also be selected, because their functions are different. In this issue, we will introduce the usage and selection method of manual microblading needles.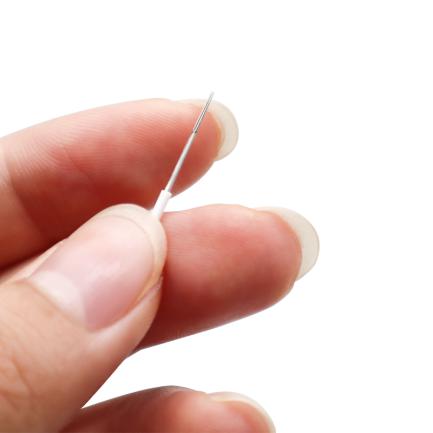 As we all know, there are many types of microblading needles, such as round needles and flat needles, among which there are special single-flat U18 needles, double-flat 16-needles and so on. In addition, there are also several different thicknesses of the needle tip of the microblading needle. They are 0.16mm, 0.18mm, 0.20mm, 0.25mm, 0.30mm, and 0.35mm. Different thicknesses have different operating effects. A needle with a thickness of 0.18mm will not bleed easily when pierced into the skin. The wound is small and there is almost no pain, which can achieve the effect of avoiding anaesthesia. Of course, depending on the needle type, the part used will be different.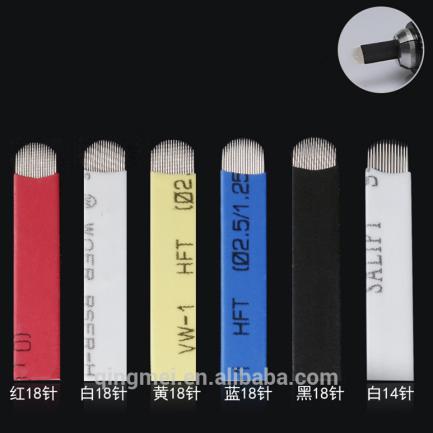 Round needle
There are many types of manual round needles, including 3/5/7/9/17/19/21 needles. The operation method and use skill of each needle are different, and the effect and three-dimensional effect of the needle will be different. Microblading round needles are suitable for making foggy eyebrows, because the wounds of round needles will be smaller than those of flat needles, and the scabs will be lighter. Normal tattoo artists use 3R and 5R needles. If you are accustomed to using a larger prick spacing, use 5R needles, otherwise, use 3R needles. R9 needles, R17 needles, R19 needles, and R21 needles have a large number of pins, which can greatly improve the efficiency of operation, and the needle insertion resistance is relatively large, which is not easy to cause the needle to be inserted too deeply, which is very suitable for novice operation.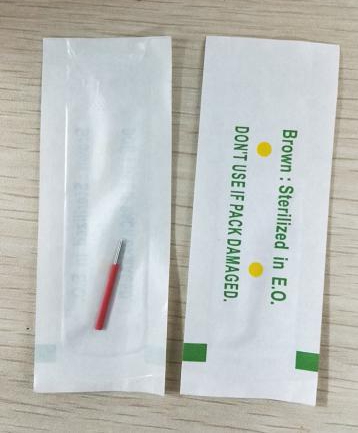 Flat needle
Flat needles can be divided into single row, double row and three rows of needles, of which single row needles are the most used in manual tattoos. The single-row model has 5/7/9/11/12/14/16/17/18/21 pins, and there is also a U-shaped single-row pin. There are 12U/14U/16U/18U/20U/21U needles, and different models have different operating effects. Most tattoo artists like to use a single row of needles to manipulate the line eyebrows.
12-pin, 14-pin, 17-pin, 18-pin
When manipulating the lines tattoo, the long line in the main line can be made by 17-pin or 18-pin needles, and the short line can be made by 14-pin, the filling line can also be 14-pin, and when making fluff, use 12-pin.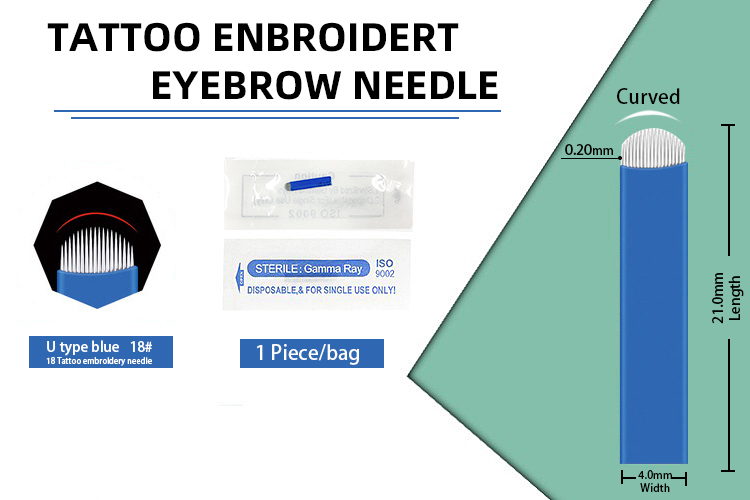 Of course, in practical applications, if you are skilled, you can use only one type of needle throughout the entire process. Generally, you can do it from beginning to end with 14 needles. If you are just a novice tattoo artist, and you are not familiar with the characteristics of all the above needles and you want to use 1 to complete the process. It is recommended to use 12-pin needles.
The above is a simple introduction to the types of microblading manual needles and the selection method of needle types. If you want to know more exciting content, you can continue to pay attention to our official website of QM.
Submit successfully
We will review as soon as possible